I am updating this post for
BooMama's Christmas Tour of Homes
!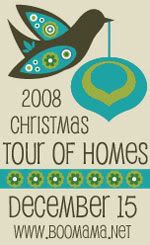 This is our first Christmas in this house and we wanted to spruce it up a little without spending too much money. I got both of the wreaths on the windows for $7.99! I love a deal! :)
I've had this wreath for 4 or 5 years. I love all the berries on it.
I found this garland at Michael's and intended to hang it on the arch outside of our house, but I noticed other people's mailboxes decorated and loved them. Yes, I'm a copy cat!
This is our little tabletop tree. We bought it last year when B was only 16 months old. We had a fear of him eating hooks and/or turning the tree over. Since he's a little over 2 now we decided to keep it again this year and pray he doesn't pull any ornaments off :) He's done great leaving it alone.

Matt and I stayed up late one night decorating the house. I wanted to get Bryan's reaction to everything when he woke up. Here he is! :) (After watching the second video, do you think he might be related to Frosty the Snowman?!)
Bryan seeing Christmas
from
jamie baker
on
Vimeo
.